1) Problem: The Paymee menu does not show in Excel or I get a '...Project Load Error...' message when I try to open a Paymee project.
Try each of the following:

a) If Paymee has been installed try manually registering Paymee with Excel.
b) This can also occurs if Paymee is either not installed, not installed properly or parts of the Paymee program have been moved or deleted. If Paymee has not been installed please install. The latest version of Paymee can always be downloaded from http://www.Paymee.com.
c) Verify that your security settings allow Paymee to run:
Enter keystrokes: Alt, T, M, S:
• Be sure "Trust access.." is checked & that "Disable all macros except digitally signed macros" -or- "Enable all macros" is checked.
d) Verify that Paymee was not disabled.
---
2) Problem: You receive pop-up errors on loading a Paymee project stating "Paymee did not initialize properly..." or "A system error occurred in...".
This has occurred often after Microsoft Windows/Office updates. It is caused by existing MS Office temporary files not being compatible with the new Update (Microsoft bug). The fix is to run Windows Disk Cleanup to delete temp files...
a) Close all MS Office programs (Word/Excel/Outlook). If any such programs did not close as usual, we recommend to reboot to be sure that Office programs have released locks on Temp files.
b) Windows Vista/7: from the Windows Start menu select: All Programs -> Accessories -> Systems Tools -> Disk Cleanup…
Windows 8: See this post from helpdeskgeek for instructions on how to run Disk Cleanup.
On prompt select the C drive, then be sure...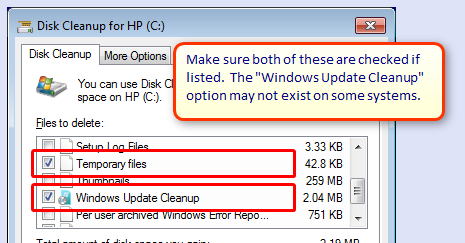 c) ...press OK to proceed. After completion restart Paymee.
If the issue persists, please reboot then re-install Paymee using these instructions. If the issue still persists please see item number 3 below.
---
3) Problem: You receive pop-up errors on loading a Paymee project and doing Troubleshooting item 2 above did not fix the issue.
Microsoft Office behind-the scenes EXD temporary files often cause such issues especially after Windows or Office updates. Try deleting these temporary files by following these instructions
a) Close all MS Office programs (Word/Excel/Outlook). If any such programs did not close as usual, we recommend to reboot to be sure that Office programs have released locks on Temp files.
b) Make sure you can see (and therefore delete) temporary files... Open Windows Explorer and select Tools -> Folder Options. Make sure hidden files are visible per these settings: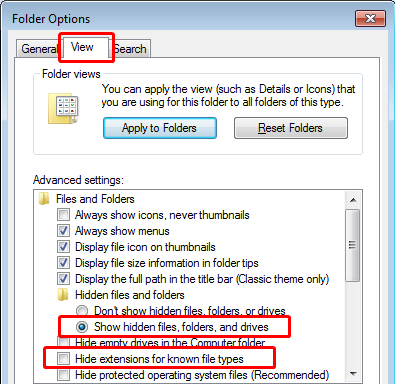 c) In Windows Explorer navigate to folder C:\Users\[User Name]\AppData\
d) Search for *.exd in that folder (and folders within)..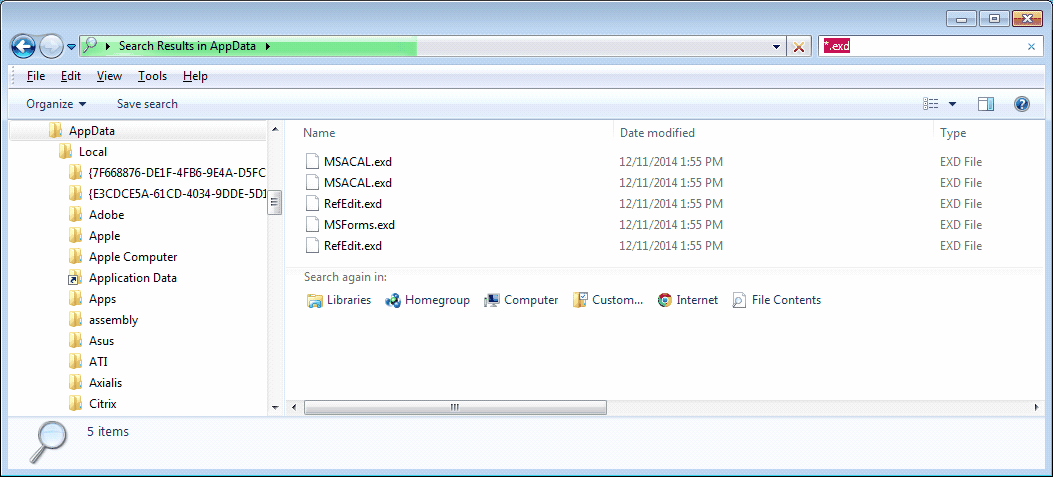 e) ...Select and delete all resulting exd files, then restart Excel/Paymee.
---
4) Problem: Excel is unstable, crashes or does not seem to work correctly when a Paymee project is opened.
• Make sure you have the latest Microsoft Serial Release / Service Packs for Excel. Within the same 'version' numerous updates to Excel have been released by Microsoft to fix 'bugs' found in early releases of each version. These updates are strongly recommended.
• You may have opened a Paymee project file in a version of Paymee older than that which the project file was created with. Make sure you are running the latest Paymee version. Refer to www.paymentapplication.com/Download for the latest Paymee version. If there is a newer version of Paymee available, you should un-install the current version & install the newer version. Note if you purchased a Paymee version 4 license, you do not need to re-enter you license code after uninstalling & installing a newer version of Paymee so long as the newer version is version 4.x. Where x is any number. We only require a new license (and new code) if we release a major version for which we will increment the version number from 4.x to 5.x.
• In general be sure you are running the latest release of Paymee. Newer releases of Paymee may have bug fixes discovered in older versions of Paymee. See previous item above for more info on checking your Paymee version. Note for privacy reasons we do not send out email notifications if a newer version of Paymee is released with bug fixes (some customers may consider this spamming), unless a serious bug or flaw is discovered.
• If you are running or have just installed Google Desktop or Google toolbar: Be aware there are know issues with Google software & Excel Addins. Google software indexes in-use files & interacts with Excel upon loading files. This has resulted in Excel crashing in some cases. If you experience issues, re-install Paymee. If the issue persists & you have tried everything else on this list, then consider UNinstalling Google. Google Desktop & Toolbar also contains mild spyware that tracks & reports back user trends. This in turn slows down PC performance.
---
5) Problem: Paymee crashes or becomes unstable on printing.
Depending on your system & printer setup you may experience issues during printing. In this case try using a different method to print.. There are 3 ways to print a Paymee project:
1) Using the Paymee menu: Print Paymee Project
2) Using the Excel menu: Print
3) Export the Paymee project (see Paymee's Project menu) first. After exporting the result is a regular Excel file ... now use the regular Excel menu: Print
---
6) Problem: The program won't let me enter Contract Summary data.
Contract Summary data is calculated automatically off of totals in the 'Detail' sheet. Therefore to edit the summary, simply edit the data on the detail sheet.
If you intend to only use the 'Summary' page then just lump everything into one line item on the Detail page so that the Summary page populates.
---
7) Problem: I can open a Paymee file, but Paymee does not run & the Paymee menu does not appear.
You may be opening an exported Paymee file. Exported files loose all Paymee functionality & are treated as regular Excel files. Exported files will be missing sheet buttons, so if the Summary sheet does not show '+'/'-' distribution buttons on the bottom left, then you are opening an exported Paymee file.
---
8) Problem: I receive a error message: "Microsoft Excel cannot access the file ...\PaymeeV4.xla ..."
Make sure Paymee is installed and the file per the message exists on your system. Also make sure that Paymee was not disabled.
---
9) Problem: As i open a Paymee project red text briefly and quickly appears on the screen (not enough time to read) & then disappears as Paymee loads.
This is normal behavior. The red text is the default message in case your Macro settings don't allow Paymee to run or in case Paymee is not setup properly. Since for this case Paymee would have no ability to dynamically display a related message, it is instead always displayed as default red text. On successful Paymee loading (a split second later) it is removed. If you want to satisfy your curiosity as to the msg, simply open a Paymee project with Macro security settings set to 'High' (no programs allowed to run).
---
10) Problem: Paymee starts to load then I receive an error message.
Make sure you have sufficient systems resources. Try re-installing Paymee. Be sure your re-install with 'Admin' permissions and no other users logged into the PC. If the problem still persists, there may be a conflict with Paymee & anther Excel Add-Ins on your systems. If the problem still persists contact support.
---
11) Problem: I loose some toolbars when I open Paymee or I cannot access some Excel features.
There is nothing wrong as this per design when a Paymee project is active. Paymee purposely hides toolbars & disables Excel features that are not applicable or permitted in Paymee Projects. For example, you cannot change the font of a Paymee project (unless you Export it, see Project menu) therefore the Format Cells menu is disabled & the formatting toolbar is hidden. Upon exiting Paymee all Excel features are restored. If this does not happen, open & close the file called ResetExcel.xls which is located in the Paymee installation directory (C:\Program Files\Sapro Systems PaymeeV2\ by default).
---
12) Problem: Paymee won't let me edit the heading fields on the Detail Sheet.
The headings in the Detail Sheet is not directly editable... they are linked to the headings on the Summary Sheet. Therefore to edit the headings on the detail sheet, simply enter the appropriate heading on the Summary Sheet.
---
13) Problem: Upon saving a paymee project in Excel I get the following message: "This document is both encrypted and password protected. The Office Open XML formats available in the 2007 release provide stronger encryption. Do you want to increase the security of this document by converting to an Office Open XML format?"
This is the standard Excel 2007 message when saving files (even Paymee files) created in a older Excel versions. We recommend selecting 'No' as otherwise the project file may no longer open in older versions of Excel.
---
14) Problem: Excel asks for a password upon closing Excel.
This error may be caused by Google Desktop or Google toolbar. This error is harmless (press Cancel about 4x till it goes away), but yes it is annoying. This error is not specific to Paymee, but rather a Google bug that effects any Excel Addin. For more information & for a work around see: http://www.add-ins.com/password_problem.htm
---
15) Problem: I receive a message saying: No Return() or Halt() function found on macro sheet.
This error message is caused by old Excel 10 AutoSave Add-In. AutoSave has some know bugs & does not work with Paymee projects. This message is harmless. Note that AutoSave will NOT save Paymee projects. To disable AutoSave & stop the message from appearing again, from the Excel menu select Tools -> Add-Ins, then un-check AutoSave.
---
16) Problem: I need to transfer Paymee including the license to another PC.
To transfer a license: 1) Locate your license info received on purchase via email. 2) Uninstall from the original PC while connected to the Internet so that the license is released. 3) Install to the new PC - follow instructions per your original order email. Note: if needed, additional license support is provided though the support period (1 year from purchase).
If you didn't find what you were looking for you can contact us.